Local Business, Food, Accommodation
History Group
Local Events





Summary of Castle Rising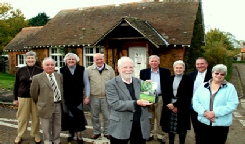 The Parliamentary Borough of Castle Rising
In the early 16th century the manor of Castle Rising belonged to the royal Duchy of Cornwall. In 1544 Henry VIII exchanged the manor with Thomas Howard, the 3rd Duke of Norfolk, for lands in Suffolk. In 1558 the 4th Duke, a cousin of Queen Elizabeth I, became Lord of the Manor of Rising. The Duke, perhaps realising that the ancient borough was entitled to two parliamentary representatives, caused an election to be held in Castle Rising in the same year. The MPs elected were Sir Nicholas Lestrange and Sir John Radcliffe, the latter being the stepson of the 12th Earl of Arundel, the 4th Duke's father-in-law.
During most of the sixteenth and seventeenth centuries the manor remained in the ownership of the Howard Dukes of Norfolk. They had the power to choose candidates to stand for their Borough in parliamentary elections. Towards the end of the 18th century, however, the Walpole family, who were powerful and politically-minded neighbours from nearby Houghton, began buying burgages in Castle Rising. This gained them the right to nominate candidates for one of the two parliamentary seats. Thereafter, elections in Castle Rising were essentially controlled by the Howards and the Walpoles. Between them they engineered the election as MPs for Castle Rising of such notable national figures as Samuel Pepys and …


One of Castle Rising's claims to fame thus stems from its former status as both a 'Rotten Borough' and a 'Pocket Borough'. Before 1832 it was one of the smallest constituencies to send MPs to Westminster and as such became a classic and often quoted example of the iniquities of the parliamentary system. For much of the eighteenth and early nineteenth century Castle Rising had a voting population of fewer than 50 people and yet sent two MPs to Parliament, whereas many large industrial towns which developed rapidly as a result of the industrial revolution had no representation at all. By the beginning of the 19th century, however, there was growing pressure for parliamentary reform. Earl Grey, the leader of the Whig party, steered the electoral reform bill through parliament despite determined opposition from the Tory party, especially in the House of Lords. The Great Reform Act was passed finally in June 1832. Castle Rising was one of 56 boroughs disenfranchised by the Act.